Ayurveda is based on the concept that everything is interrelated and interdependent; we are a microcosm within a macrocosm.
With so many health fads today, do you ever wonder what is the best diet and lifestyle for your unique mind and body type?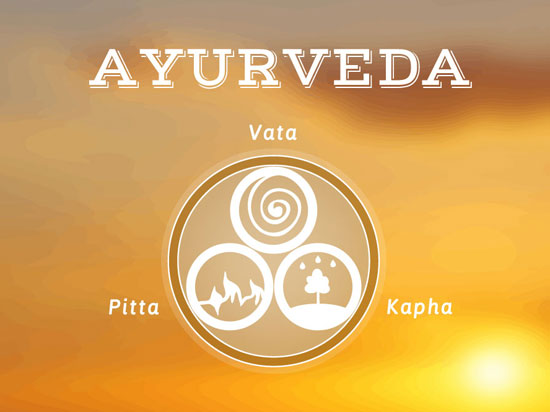 Ayurveda (Ayur = life, Veda = science or knowledge) is a personalized approach to health and a functional life science that shows us how to improve digestion and reverse the disease process.
According to Ayurveda, each human has their own unique constitution. Some people have more wind (Vata)--prone to nervous disorders and food sensitivities, others have more fire (Pitta) and heat--prone to inflammation and acidity, and other people have more heavy, damp, earth (Kapha) qualities--prone to weight gain, parasites, and candida.
Knowing your constitution will help you determine how to make dietary and lifestyle choices that will benefit your constitution and correct your state of imbalance.
Ayurveda emphasizes the importance of digestion. If we are not able to digest and assimilate food properly, it contributes to malnourishment and toxic build up in the body. This initiates the disease process.
Modern medicine is now confirming what has been stated in Ayurveda for over 5,000 years and is stressing the importance of the microbiome. We must cure leaky gut and eliminate food sensitivities to correct autoimmune diseases, balance blood sugar and reduce inflammation.
Ayurveda works by healing the gut and removing toxins from the body.
To prevent imbalance, many people sign up for one of my detoxification programs. Together, we can:
Cure Leaky Gut & Eliminate Food Sensitivities
Balance Blood Sugar
Eliminate Parasites & Candida
Cure Autoimmune Diseases & Inflammatory Skin Reactions
Get help with physical imbalances
For physical imbalances, you can find relief with one of the bodywork treatments, which includes warm herbal oil over specific areas of the body.  This works by improving circulation and nourishing the body with powerful herbs. It loosens tight muscles, relieves stiffness and prevents deterioration of the joints and spine.
My consultation packages are beneficial for chronic imbalances.
Here we can establish a long term relationship to meet your health goals. Ayurvedic consultation includes an interview to determine your unique constitution and physical diagnostics including pulse, tongue, skin and nail examination. Recommended therapies to balance your constitution may include detoxification, herbal therapies, bodywork, dietary intervention, lifestyle and stress management techniques.